Farmers gathered at New Delhi's Singhu border.
Coming forward in support of agitating farmers, transporters' apex body AIMTC on Wednesday threatened to halt operations in northern India from December 8 if the government fails to address concerns of the farming community. The All India Motor Transport Congress (AIMTC) is the apex body of transporters, representing about 95 lakh truckers and other entities.
The farmers' agitation against the three central farm laws entered the seventh day today.  The leaders of protesting farmers have demanded a special session of Parliament to repeal the new farm laws and threatened to block other roads of the national capital if their demands are not met. "If govt does not fulfil our demands, we will have to take more steps," said farmer leader Gurnam Singh Chadoni while addressing a press conference in Delhi.
Meanwhile, Delhi Chief Minister Arvind Kejriwal today claimed that the BJP-ruled Centre was angry with him for not permitting stadiums to be used as temporary jails for farmers protesting against the farm laws. In a press briefing, Kejriwal also hit out at Punjab Chief Minister Amarinder Singh saying that he was speaking "BJP's language" by accusing him of "passing" three farm laws in Delhi. Last week, the AAP government had denied permission to the Delhi Police to convert the city's stadiums into temporary jails.
"The Punjab CM accused me of passing the three black laws. How can he do such lowly politics at such a crucial time," Kejriwal said. "Amarinder Singh had several chances to stop farm bills but did not do so," he added.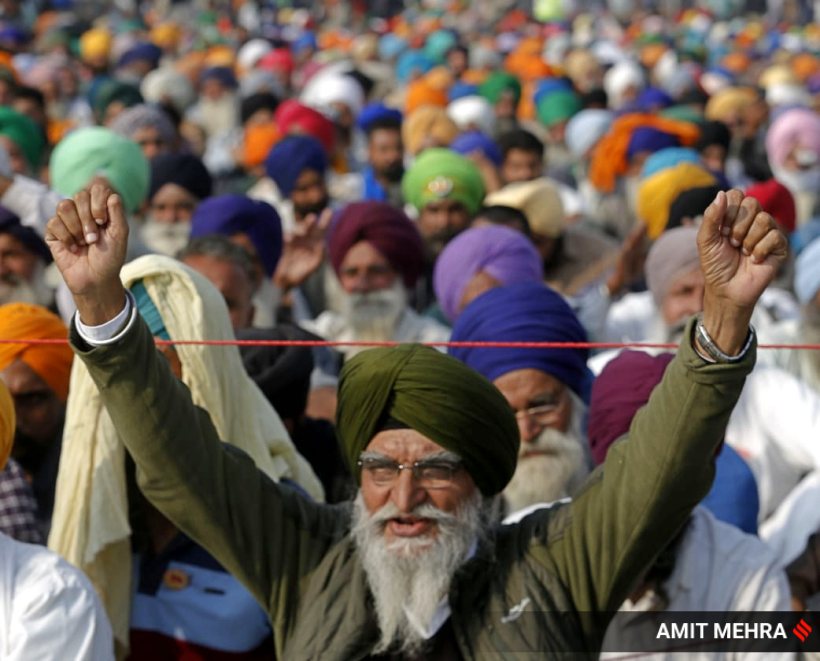 The farmer unions said the new laws would give "unregulated freedom to corporates".
Meanwhile, addressing a press conference at the Singhu border, representatives of farmer unions said they would continue to block Delhi's borders till their demand was met. "We know that November-December is a very important period for farmers. Many of us have left our farms to come here and protest. Our demands remain the same since the first day — the laws must be taken back. This is non-negotiable. This protest is by farmers, and it is above any religion. This is becoming a bigger movement and the government needs to listen," said Shiv Kumar, coordinator, Rashtriya Kisan Mazdoor Sangh, who is representing farmers from Madhya Pradesh.
Security remains heightened at the Delhi-Haryana border at Tikri as farmers, who are opposing the three central farm laws, stayed put at the Delhi border points for the third consecutive day today. Thousands of farmers were allowed to enter the national capital on Friday evening after clashes with the police, who used tear gas, water cannons and lathis to block their march from Haryana.
Farmer leaders hold a press conference at Singhu Border on Sunday. (Express Photo: Gajendra Yadav)
Opinion | Farmers' apprehensions about role of mandis, terms of procurement need to be addressed
READ | Meet the 35 who are sitting across the table in meeting with govt today
strong>READ | MLA quits as Haryana body chief, 'khaps extend support' to protest
READ | At protest site, farmers want govt to give MSP guarantee 'in writing'